How my insurance career took off…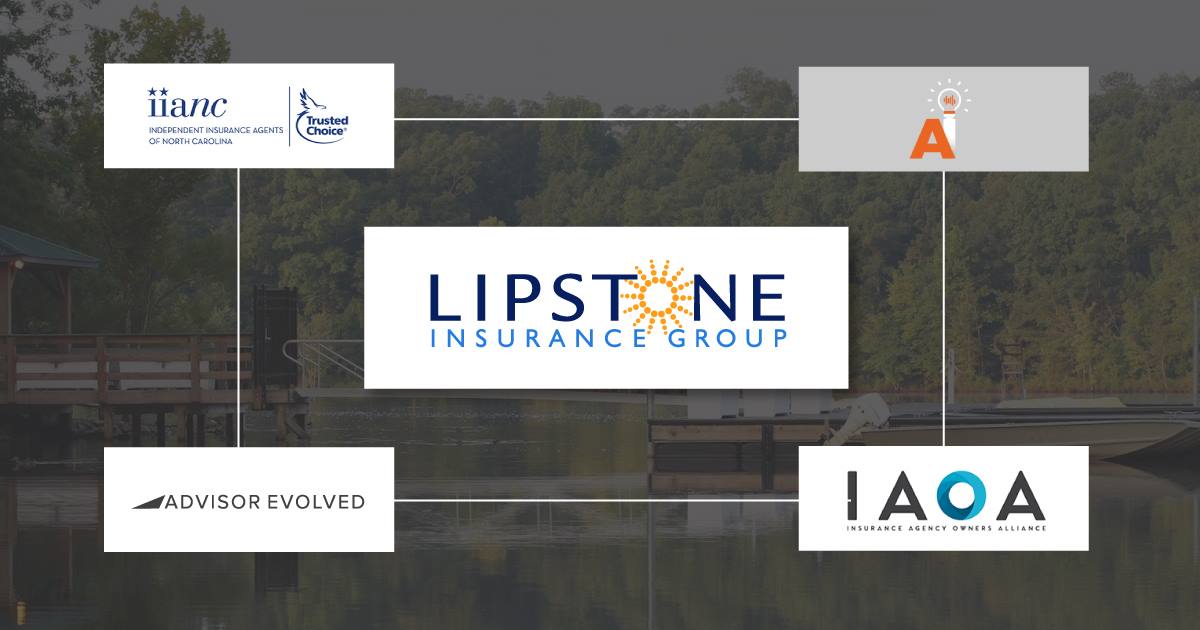 I started my insurance career on August 2, 2008 right after my wife and I moved back from Tennessee where we attended college at Lee University.  I remember one of the first things my father talked to me about when I joined the family business was getting involved in different insurance groups.  He wanted me to surround myself with people my age and who were looking to further their insurance career.
Little did I know that suggestion would not only catapult my insurance career, but it would lead to me meeting some of my closest friends in my personal and professional life.
I've had the privilege to be part of so many great organizations from Advisor Evolved to Agency Intelligence to the Independent Insurance Agents of North Carolina to Insurance Agency Owners Alliance and others.
Without these groups and organizations, and more importantly the leaders, I would not be where I am and this blog wouldn't exist.
As cheesy as this will sound I want to say thank you to all of those people from the bottom of my heart.  A special thank you to (in alphabetical order) Allyson Knott, Aubie Knight, Chris Langille, Jason Cass, Joey Giangola, Haley Everett, Kelly Erstine, Natalie Simpson, Nick Ayers, Rena Todd, and Ryan Hanley.
Here's a picture of how my story evolved…
Advisor Evolved

What it did for me
In 2014 I began my search to move my agency from the year 2002 to 2014 digitally.  I had a website which was basically a glorified brochure and I knew I had to do something.  (Take a look for yourself)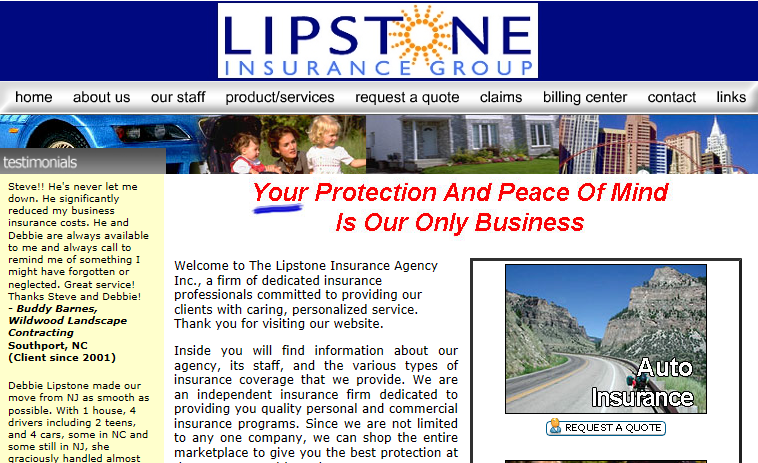 After spending months, creating a 4 page spreadsheet, talking with more than a bakers dozen of website companies I finally partnered with Advisor Evolved to develop our new website.
The way I even found Advisor Evolved was because Chris Langille was on a podcast hosted by Ryan Hanley called Content Warfare.  Check out the episode here.
And I'm proud to say I was the first Advisor Evolved client #AE4Life.
Our new website launched on June 15, 2015.  It was beautiful.  It was exactly what my agency needed and continues to need today.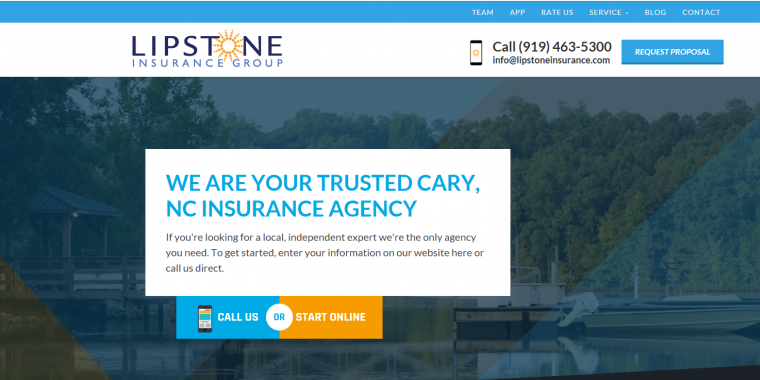 Not only did I have this awesome new website, but this is where I discovered the art and love of blogging.  I was given the tools, knowledge, and confidence that I can do this.
I now have clients who find us because of what this website has allowed me to do.  I receive compliments on a regular basis of how easy it is to navigate and how great it looks.
Without this company I would not be where I am in my insurance career.
If you want to learn more about my experience with Advisor Evolved and how it changed my life check out this article So I finally found a website company – here's what happened next.
What it can do for you
Having a website that looks great is one thing.
Having a website that functions behind the scenes like a insurance wielding ninja is another thing.
A website from Advisor Evolved will help to lay the foundation for you to dominate the digital space.
They provide not just a phenomenal website, but Power Pack that is an absolute game changer.  From QuoteVids which will change how you send proposals to clients to Case Studies that let you show how your companies compete against others to so much more.
If you want to learn more about this contact Chris Langille at chris@advisorevolved.com and visit their website here.
Agency Intelligence
What it did for me
I still remember the first time I met Jason Cass.
It was 2014.
I was attending the Big I Legislative Conference in Washington, DC.
I had an early morning flight; it was all of 65 minutes.  And to keep myself occupied I decided to binge on a few of Agents Influence podcasts.
As I walked into the Young Agents reception I heard a familiar voice, a voice I had just spent a plane ride listening to.
I walked up to Jason and introduced myself, and he swears to this day that he remembers it.  (I guess I made a big enough impression with #fangirling all over him.)
Shortly after this encounter I decided to join the GROW Program, now called Agency Intelligence.  By becoming a member I was given access to the pioneers of the digital insurance space.
Jason for Facebook.

Ryan Hanley for Google + (remember when that was the next big thing).

Brent Kelly for blogging.

Brian Appleton for email marketing.

Ken French for LinkedIn.
These guys helped to shape my understanding and philosophy for how I would shape my digital marketing efforts which in turn catapulted my insurance career.  I looked forwarded to the one hour a month that they would share their knowledge, tips, and tricks to maximize my efforts on each platform.
After undergoing changes in the GROW Program a guy by the name of Joey Giangola came along and changed how people use video.  If it wasn't for Joey I would not be able to shot a video, edit it in Adobe Premiere Pro (which still gives me nightmares), and uploading it correctly.
Adding video to our digital marketing efforts has allowed me to connect with my audience on another level.  (And I hope you all enjoy it!)
The GROW Program added a new arm of the company called GROW Mastermind and again this was another game changer for me.  It brought together agents from all over the country to share their successes, their failures, their pains, and their joys.  I was now able to talk with other insurance agents who shared the same goals and aspirations that I had.
To take things to the next level they decided to add an annual conference (well it's really not a conference if you ask Jason and Joey).  It was an opportunity for the best insurance agents in the country to get together, share ideas, motivate, and collaborate.  As great as it is connect with people online it's even better in person and GROW Lab 2016 allowed us to do that.
Without the people involved in this group I would not have gained the confidence that I needed to further my insurance career.
What it can do for you
You will surround yourself with other agents who want to succeed.
Be better.
Learn.
Grow.
This group won't just help you with how to, but the why.  They are the ones that will make you think differently about your agency.
If you want to learn more you can contact Jason at jason@growprogram.com and visit their website here.
Independent Insurance Agents of North Carolina

What it did for me
I work in a family agency.  For the majority of my insurance career it's been my parents and I.  I knew that if I wanted to meet other agents my age, I needed to join a group.  And if I wanted to follow my father's advice, I needed to join a group.  That's when I found the Young Agents of North Carolina.
This was a group of people my age, that worked in the same industry, and lived close to me.
I was first introduced to them when I attended the Young Agents Conference in Greensboro, North Carolina on election night 2008.  I still remember sitting in the hotel watching the election results coming in late into the night.
After that conference I knew I had to get more involved.  The following year I decided to join the Young Agents Committee and it was the best decision I could make.
I was given opportunities to serve in various leadership positions from heading the Marketing Subcommittee to Vice Chairman of the committee to Chairman to now Immediate Past Chairman.
Recently I was part of the group that transitioned the Young Agents of North Carolina into the future by renaming ourselves iLead (Where Future Insurance Leaders Emerge, Advance, and Develop) and focusing on where the insurance industry is going.
Because of my involvement with the committee, I was able to serve on other committees and task forces for the Independent Insurance Agents of North Carolina (IIANC).
I am grateful for being part of the Events Committee that was responsible for planning the two conferences that the IIANC puts on each year, the Legislative Committee that focused on making sure our members voices where heard in the North Carolina House and Senate, the Dues Task Force that changed how member agencies pay their dues, and the Trusted Choice task force that focused how we bring the message of what an independent insurance does for the consumer.
In 2013 and again in 2015, I was awarded Young Agent of the Year and earned a Chairman's Citation in 2015 for my work with the Dues Task Force.
Without this group I would have never met Jason or Ryan.  The IIANC was the springboard that connected me with the people I've met in this industry and catapulted my insurance career.
What it can do for you
Whether you live in North Carolina and want to join the IIANC.  Or you live in New York, Florida, California, Oklahoma, North Dakota, you can join your state insurance association.
They will be able to connect you with other people like you by offering committee's such as the Young Agents Committee, Political Action Committee, Event Committee, and many others.
Not only can your state association help you further your insurance career like it did for me, it can help further the industry.  They provide a tremendous platform for agents to be heard in Washington, DC through their lobbying efforts.
If you want to help yourself, help your community, and help your industry I'd strongly recommend you get involved with your state association.
If you want to learn more I'd encourage you to check with your state association here.
Insurance Agency Owners Alliance

What it did for me
I still remember the day I received my invite to join this Facebook group back in January 2015.  Little did I know how being invited to a Facebook group would change my life.
Nick Ayers, one of the founders of the group, was part of The GROW Program and another agent was looking for an insurance agent in North Carolina.  Because Nick and I knew one another he recommended me to the other agent and I was invited to join the Insurance Agency Owners Alliance (IAOA) Facebook group so I could connect with other insurance agents.
When I joined the group there was around 150 members and now they are over 3,500 members.  What this group has accomplished is nothing short of amazing.
I spent the next year consumed with helping and learning from other agents across the country all because of a Facebook group.
This also provided me with the opportunity to speak in front of my peers for the first time.  I was asked to speak on the Millennial Panel at Innovation 17 in Orlando, FL.  It was a great experience, but a word for the wise after my experience:
Don't make a joke about buying other insurance agencies when you're being asked questions about what advice you would give to other agency owners.  It won't go over well and only creates headaches for the leaders of the organization.  My apologies, Nick and Dave.
I am truly grateful for IAOA and what it has meant to my insurance career.
What it can do for you
The insurance industry still carries the stigma of not wanting to help other insurance agents who are the same city, same county, or same state.  IAOA is fighting that stigma through their mantra of #IAOABetterTogether and by focusing on Selflessness, Innovation, and Collaboration.
This is a free platform that will allow you to connect with other insurance agents across the country to better yourself and your agency.
The amount of giving that this group exhibits is extraordinary and you would do yourself a disservice if you didn't join.
If you want to learn more about IAOA, then check out their website.
My insurance career comes full circle
As I sit here I am amazed at how things have come full circle because of these four groups and organizations.  I can't help but think where I would be without them.
If I never joined the Young Agents of North Carolina through the IIANC, then I would have met Jason and Ryan.

If I never met Jason, then I would have never met Nick.

If I never met Ryan, then I would have never met Chris.

If I never met Nick, then I would have never joined IAOA.

If I never met Chris, then I would have never partnered with Advisor Evolved.
If I would not have stepped outside of my comfort zone, joined these organizations, had the courage to walk up to these people, then I would still be sitting in my salmon-colored office hoping that someone would find my Yellow Page ad. Now I sit in an on-trend gray-colored office with so many requests coming in that we hired another insurance agent to join our agency. He starts today.
My advice for you is to find your people, your tribe, a place to connect and belong.  You don't have to be a one man wolfpack, you don't have to be a loner, you can be part of something greater.  Don't be afraid to ask for help, don't be afraid to emulate others, don't be afraid to fail, don't be afraid to succeed.
If it was not for these organizations and these people, then I would have never been able to catapult my insurance career.
Get out there.
Catapult yours.