Today marks the one year anniversary of our new website being launched.  The amount of time, 18 months, that went into finding a company to do it, (Advisor Evolved), and then another 6 months of talking with their founder Chris about what the website should be, do, etc. makes this a labor of love.
I originally thought about this article a few weeks ago and what I would say.
I began, as I always do, writing it in my head.  (I actually play out scenarios all the time in my head including conversations with you, my clients.  Weird, yes I know, but I've accepted it by now.)
I wanted to make this about what has happened to our agency in the past year.  What this website has meant to us and how we are going to be propelled forward, but I've decided against it.
Instead I've decided to talk about my personal growth.
Scary? Yes.
Worth it? Yes.
Will you keep reading?  I hope so.
I didn't just sign up for a new website; I became part of something more…
I had no idea what was in store for me by simply finding a new website company, which by the way mine is amazing and is the envy of many independent insurance agencies across the country – and no that is not the wine from dinner talking.
I had no idea what it would eventually lead to professionally and personally. I've made friends with people who I never thought possible because of this website company.
3 people who changed my life
For those of you who know me and knew me growing up  I wasn't a popular kid in school.  I didn't have a ton of friends, but enough that I was able to function and get through high school and college.
But because of this website company I found three of my best friends.
These three people; Elisha Cavanaugh, Erin Nutting, and Mario Matthews (alphabetical order so as as to not show favoritism) have been so instrumental in making me a better husband, son, friend, and business owner that no words can express what they mean to me.
These three people have been there for me to support me when I needed it the most.  They have pushed me to be the best version of me.  They have helped me realize the value that I bring to the table as not only an independent insurance agent and owner, but as a person.
I still sit here in amazement some days thinking to myself that a simple business decision is what I needed to propel me forward.
Case in point on June 2, 2016 I did something that I would have never considered on June 2, 2015 because of Erin. I am a member of several Buy/Sell/Trade Facebook groups, as I'm sure many of you are. I saw a post from a local real estate agent and something compelled me to click on the link.  Being a person who tries to write their own content I was surprised that he had written the article himself.
So often I'll see a post by a real estate agent or an insurance agent where they simply post someone else's own work, write one or two sentences about "Hey you should check out this amazing article about what to do if you have water damage, etc." and they don't take the time to do it themselves.
Not only had he written this article himself, he had written a lot of articles.  I mean a lot!  I was blown away!
I made the bold decision to email him and tell him how impressed I was with his article and the fact that he produces these articles on a regular basis.  I ended the email telling him that the entire intention of my email was to tell him how impressed I was and to keep doing it.  What happened next I'm still in shock.
He responded quickly, which in reality makes perfect sense based on who he is, and he was extremely gracious.  He thanked me for my kind words and told me that he has only one question "How can I help you grow your business?"
I almost fell out of my chair.  And it has arms on it!!!
I couldn't believe it.
He wasn't interested in asking me if we can get together to see if I could recommend my clients to him.  He didn't just say "Thanks for the kind words and I will."
No, he asked me how he can help me grow my business.
Why am I telling you this story?
I'm telling you this story because I made a decision in 2015 to upgrade from a glorified brochure of a website to what is the best independent insurance agent website in the entire country.  (Yes that's a bold statement, but if you don't believe in yourself and think you're the best why should people do business with you?)
This decision led me to change me;
This decision lead me to put myself out there;  (If someone has a better way to say this please let me know)
This decision brought three amazing human beings into my life.
I tell you this because you may be at a place in your life, in your business, that may not seem huge, but it can lead to something larger than you can ever imagine.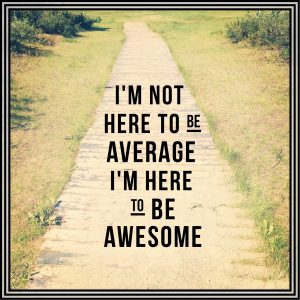 The whole point of this is to tell you that you will be faced with many decisions in your life and in your business that may seem inconsequential, but may end up being the best decision you'll ever make.
I don't want this to cause unnecessary stress or anxiety and for you to fall prey to "paralysis by analysis" because that's something that can definitely happen.
You need to accept that sometimes in life God smiles down from heaven (yes I'm a Christian and proud of it) and let these amazing things happen in your life.
My advice is to continue to do what you believe is the best thing for you and your business.
You never know what may happen?!?
You could end up with three new best friends?
You could end up with growing your business my 300%? (Still waiting on that)
I don't know what the future has in store for you, but what I can tell you is that if you do what you believe is right, what you believe is moral, what you believe has your clients best interest at heart you can't go wrong.
So to Elisha, Erin, and Mario thank you for being my friend that I needed.
Let's talk soon
If you have any questions about my journey over this last year please feel free to call me at 919-463-5300 or email me at josh@lipstoneinsurance.com.  I'm more than happy to share more of this story with you and if you want to talk about insurance I'm more than happy to do that.
I wish you all well and I can't wait to see what the next year has in store personally and professionally.